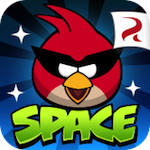 If you're among the, like, 12 people who don't own Angry Birds Space (Free), now's an awesome time to fix that. The outer space-themed take on the series is free to download across iPhone, iPad, and iPod touch. You got zero dollars, right? Get clicking!
My favorite thing to do in Space is watch my birds helplessly orbit objects without any hope of actually colliding into something that can break. It's funny in that troll-y kind of way. These brave birds braved space and, possibly, travelled light years to do a job, but can't because their operator is a jerk. Eli, on the other hand, found a couple of better things to like about Space, including the level design.
We hear folks really like Space, so chances are the remaining 12 of you will, too. We're guessing this is free courtesy Apple's own Free App of the Week promotion, so you've got seven or so days to jump on the game's new $0 price.