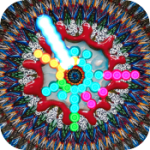 Just a quick heads up that a very neat game is currently free, and worth checking out even if you miss out on the freebie. It's called Floris ($1.99) by Ox & Coon, and it takes similar matching inspiration from games like Tetris and Dr. Mario and blends them into an audio/visual treat that feels equal parts art and game.
To be perfectly honest, Floris seems pretty simple on the surface but it actually can get quite complex and strategic as you go. It's also one of those things that's hard to explain, but will eventually "click" after you play for a bit and from that point on Floris really begins to shine.
Floris is based around a center point with 12 extensions branching out from it evenly, like the numbers on a clock. At any given time two of the extensions are pointing towards the top of the screen, and two sets of colored dot-like petals travel down them towards the center. Buttons on either side of the screen allow you to spin then entire shape around, changing which extensions are pointing up and receiving the dropping petals. Another set of buttons allow you to swap the position of the dropping petals, and touching the center of the Floris causes your petals to fast-drop to the center. It's easier to see in motion in the following video.
Matching five of the same color on one extension will eliminate the petals in that extension, but the real fun lies in making entire circles of a matching color around the entire Floris. Again, it's tricky to explain and I'm even still trying to wrap my head around the game, but suffice to say there is a lot of strategy involved in the mechanics of Floris. You'd do well to read the developer's guide which does a great job of explaining things, as there really isn't an in-game tutorial to speak of.
There's so much more to Floris than the basics that I've covered here, and it's worth the effort to read up on and learn its ways as it really is a clever and visually striking little game. Players in our forums seem to be really enjoying it ever since its release a month ago, and you'd do well to snag Floris during its freebie sale.