Ravenous Games put themselves on the iOS map with their twitchy, speed-run style platformer League of Evil ($2.99) way back in March of 2011. About a year later, they released League of Evil 2 ($2.99), a sequel that went with a more Retina Display friendly art style over the original's pixely graphics. How you felt about the art style change pretty much came down to personal preference, but it was hard to argue that League of Evil 2 didn't up the ante in every other area over the original.
Ravenous has released quite a few games outside of the League of Evil games, but it seems like fans are always bugging them about when we might see a third entry in the series. (They have in fact told me that people incessantly bug them about this.) Well, today is your lucky day League of Evil fans, as League of Evil 3 is a real thing in the works and Ravenous has unveiled the very first screenshot from the game.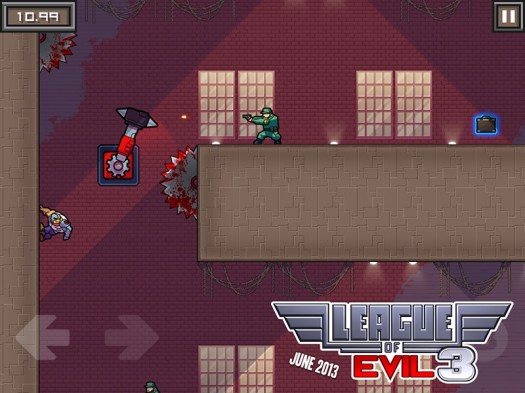 As you can see, this third game uses the same high resolution art style as League of Evil 2. I love pixel art just as much as the next guy, but I really love the sharp look of LoE 2 and I'm psyched to see it return in number 3. Probably the best news of all is that League of Evil 3 isn't that far off, and is planned for release in June. More details will be released leading up to that point, so get into our forums and add this to your TouchArcade (Free) app Watch List as we'll no doubt have more on League of Evil 3 in the near future.