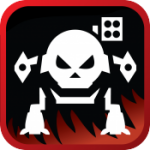 We've been following along with the development of iMech Online (Free) since its first unveiling at WWDC last year, and over the weekend the game quietly launched for free in the App Store. Actually, to back up a bit, iMech was a game originally released way back in 2009 and was among the first iOS games to feature full competitive online multiplayer for up to 8 players. It was extremely impressive for the time, and iMech accumulated a dedicated fanbase of online players.
As can happen, the original development team broke apart and eventually iMech was removed from the App Store and its servers were shut down. A phoenix rose from the ashes in a sense, though, as some of the original team banded together and purchased the iMech IP and set forth to revamp and rerelease the game. And that's where we're at now with the release of iMech Online.
It's free to download and try iMech Online, and there's really no reason why you shouldn't. It has a fairly robust selection of mechs to choose from as well as a ton of customization options so you can trick them out with special abilities and weapons. It's a free-to-play title, though, so expect to need to grind away to earn some of this stuff or pony up some real dough to do it more quickly.
However, the game's new developer Mobula has tried to ensure there's nothing that's "pay-to-win" about their upgrade system, so even if you are new to the game and not quite fully-equipped just yet you can still match up well with those who are. Also they're using a League of Legends-inspired rotating system which gives you a selection of different mechs to try out each week, so you can check them out before committing to investing time or currency into them.
So far I've only spent a small amount of time with iMech Online, but it feels like there's a lot of potential here. I like the amount of different mechs and customization options, but with just one arena and a simple deathmatch game type it feels very basic. We'll see how it continues to evolve, but for free I think it's definitely worth the time to check out. Also, there's a discussion thread in our forums if you want to drop your own thoughts or suggestions on iMech Online, or just find some folks to frag.