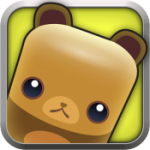 In January of 2012, developer Spry Fox released their novel approach to the match-3 genre called Triple Town (Free). It used the basic rules of match-3 but the twist was that you could match certain items and upgrade them into new and better items, thus expanding the entire strategy of matching and where to place your blocks within the games gridded boards. Check out our review for more details, but the bottom line is that we found Triple Town to be pretty fantastic.
Since that time, Triple Town has been updated several times with new features and modes. Today the latest update for the game was released, and it adds yet another new game mode for players who have purchased the unlimited turns unlock from within the game.
The new mode is called Lakes (Classic) and should be familiar to those of you who played Triple Town on the Kindle. It's pretty similar to a standard game, but you'll get special lake blocks which you can place on your board to create spaces made out of water.
These water spaces are kind of like placeholders, as you can build on top of them, but you can't place bears on top of them. However, it adds a new layer of strategy to the game as you can block off portions of the board without dedicating a permanent piece that would otherwise need to be matched to be moved.
In addition to the new mode, there is now a Spring decorative theme you can unlock to give your game a fresh look. Similar to the Winter theme introduced in an update this past January, you can buy the new theme using either in-game coins or as a 99¢ IAP. It's not going to change how you play the game or anything, but it's real pretty and stuff.
If you have yet to dive into the world of Triple Town, definitely give it a download. It's free to try and it uses a pretty cool limited-turn system to allow you to really check out the game at your own pace, or if you like what you see you can plunk down $3.99 to unlock unlimited turns as well as all the bonus modes including the one in this latest update.