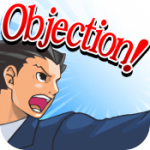 I feel like we've been waiting so long for the Phoenix Wright Ace Attorney Trilogy HD that asking where it is in comments on Wednesdays has practically ascended to meme status. Regardless, this morning our pals at Joystiq spotted a surprisingly candid post on the Capcom forums where Christian Svensson, Corporate Officer and Senior Vice-President of Capcom USA, simply says:
For reasons unknown to me, the release has slid another several months to July. Sorry guys. 🙁
Originally slated for release last year, fans of the DS trilogy of Phoenix Wright games have just a little more waiting to do, assuming there aren't any further delays. Something to consider though, a release window of July could mean the game just might be playable at E3, which certainly would be a promising sign that it's actually coming.