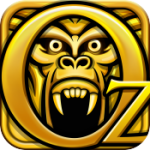 Disney's Temple Run Oz ($1.99), a movie tie-in mashup between Imangi's mega-hit endless runner and the movie Oz the Great and Powerful, has just been updated with a brand new environment and some new features. The new environment is Winkie Country, and like the rest of the game it's quite a visual treat. It also sports a new hazard in the form of Winkie Guards who will block your path either high or low, but you won't know which until you're right up on them, forcing you to keep on your toes.
You can get to Winkie Country using normal means by following the signs in-game, or you can warp directly to it or any other environment in the game right from the start by using a selection of new utilities that are sold in the in-game store. Also new in this update is your friends' high scores displaying while you run past them, just like in the original Temple Run (Free). There's also new weekly challenges and more in-game objectives to achieve rounding out this update.
I was blown away when I downloaded Temple Run Oz upon release and expected a semi-boring movie tie-in but ended up with my favorite Temple Run game to date. I'll be spending a good chunk of my day running through Winkie Country, and if you're also a fan then you should check out the new update and get running yourself.