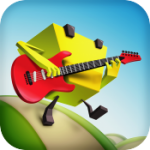 You might remember an interesting little title that released late last year called Arranger (Free), developed by composer Arman Bohn and published by Ayopa Games. It was a retro-inspired RPG/adventure/mini-game concoction that saw your little yellow square of a hero traveling fantastic lands and completing quest in an effort to complete a collection of instruments. The whole game is very music-centric, being created by a composer and all, but it really gelled together well, as we noted in our review. Arranger was a really cool game.
As we've seen happen in the App Store world before, the publishing deal with Ayopa expired or otherwise went south for some reason, and the original release of Arranger is no longer available. Arman has just re-released Arranger under his own name in the App Store, and in an effort to do right by previous purchasers, he's making it available for free for a limited time.
The Ayopa-published version should still continue to work for the forseeable future, so you can continue playing that version if you wish. But it won't be seeing any future updates. My advice if you enjoy Arranger is to grab this new version while it's free.
And if you hadn't picked up Arranger previously but had your eye on it, well, you can basically score it for free right now too. It's a really unique game, and although it doesn't take too long to complete, it's a fun journey while it lasts.