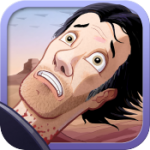 Tin Man Games, purveyors of interactive fiction on iOS with their excellent Gamebook Adventures and Fighting Fantasy series, is back with another interactive novel with a bit of a different twist.
It's called Trial of the Clone ($3.99), and it's a campy, humorous sci-fi adventure written by Zach Weinersmith of 'Saturday Morning Breakfast Cereal' comic-strip fame. Even cooler is that the entire gamebook is narrated by none other than geek poster boy Wil Wheaton. Cool. You can get an idea of the humor and tone of Trial of the Clone, as well as Wheaton's sultry voice in the following trailer.
If you've enjoyed Tin Man's previous Gamebook Adventures or the Fighting Fantasy series, Trial of the Clone uses the same engine which provides all sorts of nifty extras like a bookmarking system, an automated Adventure Sheet, adjustable fonts, and more. This digital conversion also contains exclusive new death endings written by Weinersmith which don't appear in the print edition of 'Trial of the Clone'.
It all sounds pretty sweet, so if you dig the choose-your-own-adventure style interactive novels and are craving a new adventure, check out Trial of the Clone or cruise by our forums for more impressions.