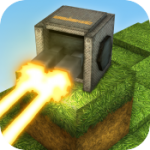 Foursaken Media's Block Fortress ($1.99) is one of those games that could last you forever. It plops you into a Minecraft-like block-based sandbox, tasks you with creating the most impenetrable fortress possible out of those blocks, and then sends wave after wave of enemies in to see if your creation will indeed stand up to the test. Oh, and while these enemies are attacking you're thrust face-first into the action by dropping into your created map in first-person mode, allowing you to help blast away at the baddies yourself. It's pretty great stuff.
The ability to create your own levels means that Block Fortress is really only limited by your imagination (and a device's technical limits), and today Foursaken extends the game's legs even further by updating it with the ability to upload and download user-created maps right into the game.
In Block Fortress's sandbox mode, you're given basically endless resources to create the craziest fortress possible. With today's update you can now upload your creations for the world to see, as well as download the maps that other people have made to test them out yourself. A simple "thumbs up/thumbs down" rating system helps ensure that the best maps are readily visible, and already there are tons of maps available to download.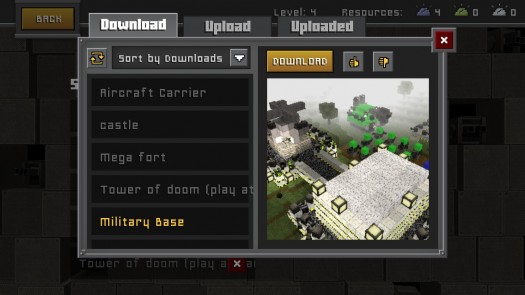 Block Fortress is awesome, but it's also a pretty complicated and challenging game. Once you get warmed up to it, though, it's an amazing experience. To help you out, we commissioned some tips from the developers, and an avid player of the game submitted his own set of tips as well. Check those out for a closer look at the strategies behind Block Fortress.
Besides the level-sharing functionality in this new update, there's also a boatload of tweaks, fixes, new block types, and more that you can read about in full in the App Store's update description. To top it all off, Block Fortress is currently on sale for just a buck, so now is definitely a good time to give it a look if you have not done so yet.