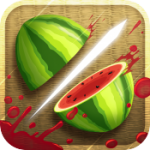 I just got the call from fellow carb-free buddy, all around nice guy, and honorary King of Australia: Halfbrick's own Phil Larsen (who was also actually on a recent podcast) to tell us that Fruit Ninja ($1.99) as well as the iPad counterpart Fruit Ninja HD ($1.99) are both free. Originally released in 2010, Fruit Ninja quickly ascended to "classic" status along side App Store staples like Doodle Jump ($0.99) or Pocket God ($0.99) with an incredibly simple premise and controls that even your grandma can get a hang of.
It seems silly to explain the premise of Fruit Ninja, as I'd hope anyone who reads TouchArcade would already know about it, but the basic idea is fruit gets tossed up on the screen of your iOS device of choice, and you swipe it to slice it while avoiding slicing bombs. Through a variety of updates they've added new game types, fruit to slice, and have even released the movie-themed spinoff Fruit Ninja: Puss in Boots ($0.99).
I figure there's a good chance most people around here already have Fruit Ninja, but still, if you don't now is a great time to snag it. Similarly, if you're a TouchArcade regular chances are you're also "that guy" who all your iPhone-owning friends ask for game recommendations, and, well, Fruit Ninja for free is a pretty solid one.