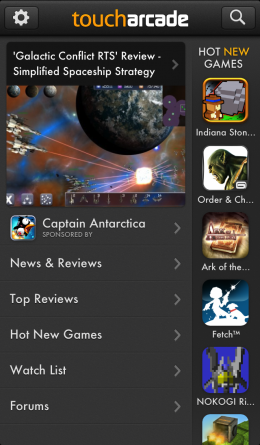 With PAX East going on this weekend and GDC 2013 kicking off next week, there's going to be a ton of upcoming game news blasting through the TouchArcade space. It can be overwhelming, both for us covering it but also for you guys following along at home, since stories can sometimes move at a much faster clip than our normal posting cycle.
With that, it seems like an appropriate time to remind you, dear readers, of the virtues of using our TouchArcade app (Free) and its Watch List functionality. Basically, whenever we post a story about an upcoming game, you can choose to add it to your own personal "Watch List" and whenever we post a news story about said game or when it finally gets released you'll get a handy push notification to let you know.
So, what do you need to do to make sure you're in the loop? It's actually incredibly easy. Obviously, you'll need to download the TouchArcade app from the App Store and install it on your device(s) if you haven't already. It's free and Universal, so feel free to throw it on all your iOS devices. Once installed, fire up the app and tap the gear icon in the upper left corner to enter the Settings.
From here you can sign into the app using your existing forum account, or if you don't have a forum account you can quickly create one from right there inside the app. It's free and all you'll need to provide is a username, password and email. A forum login isn't required to use the TouchArcade app or its Watch List, but it does offer a lot of additional benefits like subscribing to game threads, social groups, private messaging and an entire community of iOS gamers and developers to chat and interact with.
The actual act of adding games to your Watch List is as simple as clicking the binoculars icon that's near the upper right corner of an upcoming game article inside the app. You'll get a brief pop-up message that the game in question has been added to your Watch List. Clicking that same binoculars again will remove any watched game from your list, if you choose. See these screens below.
Now, any time we post information about any of the games added to your Watch List you'll get a push notification about it – as long as you have the push notification option enabled. We don't want to bug you with unwanted pushes, so you can control which kind of push notifications you get and even disable them during specific times of day all right from the Settings menu.
You can access your Watch List at any time from the main screen of the TouchArcade app, which gives you the collection of all available articles for each upcoming game.
A side bonus of using the Watch List is that once a game is released, it will move over to the "Released" side of the list, and you can get notified of any news or price drops even after it's already out. It's not as robust as the functionality you get using the AppShopper website or the (soon to return) AppShopper app, but it can still be handy.
And that's pretty much it! Be sure to keep track of all the upcoming games that we'll be posting about over the next couple of weeks using the Watch List feature, and join in on the forums to be a part of our huge community of iOS gamers and developers. The TouchArcade app's usefulness isn't just limited to conference season though, and is in fact the best way to stay in tune with what's happening in the world of iOS games throughout the year. But if you haven't started using these features yet, now is the perfect time to get started.