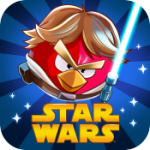 Rovio's latest Angry Birds release took the epic struggle of Birds versus Pigs and mashed it together with the epic struggle of Rebel versus Empire in the Star Wars universe. And it worked, as Angry Birds Star Wars provided a ton of twists on the usual bird-flinging formula while simultaneously doing a great job of implementing the Star Wars universe without feeling forced or tacked on. We thought Angry Birds Star Wars was really great in our review.
More is on the way, too, and GameTrailers has landed the first brief glimpse of an upcoming Angry Birds Star Wars update which will add levels set in Cloud City, the setting of Lando's dirty backstabbing and poor Han getting frozen in a block of carbonite. Good times!
GameTrailers will have more on the Cloud City update on Monday, so keep your eyes peeled for that and it sounds like the update is basically done and should be hitting in the very near future.