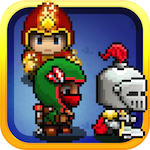 Heads up: NimbleQuest is hitting this coming March 28 across iPhone, iPad, iPod touch, and even the Mac App Store, creator NimbleBit told to us this afternoon. A new teaser trailer has been released in celebration of this news, showing off all the cool stuff you can do in the Snake meets RPG game. Make sure to check the vid out — especially if you managed to miss our exclusive web preview of the game over the weekend.
We've been playing NimbleQuest for quite awhile, and while it's definitely a different kind of game from the creators of Pocket Planes and Tiny Tower, it's still an awesome one. The action-y mechanics feel great, the skill progression system is fair, and the characters have ton of charm. You'll probably dig it.
Of course, NimbleQuest will release as a free app. An Android version of the game is slated to hit later this April.