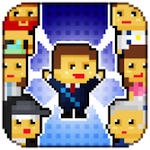 Neat: one of those massive, game-changing kind of updates is coming to Pixel People (Free) at some point during this week, if plans stick. A total of 55 new jobs and nine new genes are being added, allowing you to discover and create a bunch of new pixel people. More than a dozen new missions and a solid dozen animals are being added, too.
Around 40 missions are coming as well, giving users a solid goal to shoot for as they build, clone more dudes, and then build some more. From what we understand, a good bit of these missions will lean on your animals, which by the way, are being re-tooled for ease of play. Starting with this update, you'll be able to adopt an animal whenever if you've got the coin to spare and you'll be able to keep track of them all through their respective cards.
Interestingly, some balance tweaks and core play changes are coming along, too. Build times will "reduced," coin exchange and rewards will now scale, and the gene pool is getting a face lift (in addition to some other, smaller stuff and "bug fixes).
Pixel People is a pretty rad game, so consider giving it a look. We've got some hot screens above of some of the new stuff you'll be seeing pretty shortly, if you've got your finger on the update trigger.