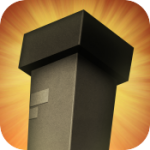 Little Inferno ($4.99) is one part puzzle game, one part social commentary, and one part fireplace simulator. Ok, that's not exactly right, but it sort of is. Originally released to critical praise on desktops last November, Little Inferno surprised everybody by launching on the iPad with practically no warning back in January. As we elaborated in our 5 star review, Little Inferno shined even more brightly on the touchscreen iPad, and for this weekend only you can check it out for yourself for just 99¢, down from its original price of $4.99.
So what exactly do you do in Little Inferno? Well, you buy things, and then you burn those things in a fireplace. The burnt items inexplicably give you more money, which in turn you can use to buy better, more elaborate items. And then burn them. Seriously, that's basically the entire game, though there is a sweet combo system to discove, and the game itself is a visual and aural treat. Also it's just plain fun to burn stuff.
Little Inferno is one of those strange experiences, where there's not a ton about it in which you technically "play", but it's somehow still compelling and satisfying in a way that's hard to describe. I definitely recommend reading our aforementioned review, or checking out our forums for more impressions to see if it seems like your cup o' tea. But if you like quirky, entertaining experiences and had been on the fence about Little Inferno previously, this 99¢ sale is a great reason to finally take the plunge.