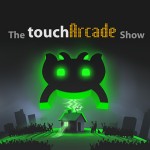 One of this week's most notable releases is Ridiculous Fishing, a fantastic and quirky fishing game from Vlambeer, Zach Gage, and Greg Wohlwend. It's been a long time coming, too, so we thought it'd be neat to catch up with some of the folks behind the title and shoot them a few questions about the game's development, how it feels to finally get it out of the door, and what it was like to work on something for so long. The result is a great podcast full of cool anecdotes, one of which is about a 5-day car ride.
If you'd like to listen to this week's bonus, just click one of the links below. If you subscribe to our regular podcast, this "bonus" should already be waiting for you in your iTunes podcast library. Cool, right?
iTunes Link: The TouchArcade Show
Zune Marketplace: TouchArcade.com Podcasts
RSS Feed: The TouchArcade Show
Direct Link: TouchArcadeShow-Bonus-049.mp3, 15.5MB
Before you leave us, a note about our coverage of Ridiculous Fishing: we'll be talking a lot more about the game tomorrow, going over its ins and outs and what makes it, eerily, one of the most… mesmerizing games we've played this year. You don't want to miss this one, so be prepared to grab it this week when it hits the App Store.
We'll be back with you later this week with another regular episode of our show, so see you then!