That headline is a mouthful, but if you read it you know basically everything you need to know about the next few weeks. Now, let's get into a bit more detail. This year we're once again going to be at GDC, and I'm a bad enough dude to do the ironman competition of back to back conventions so I'll be at PAX East as well the immediate weekend before GDC. If you're a TouchArcade reader, this means starting next Friday-ish you'll be in for a explosion of previews and other news about upcoming games as everyone at these two events show us what they've been up to. For an idea of what that's going to look like, check out our previous GDC coverage. This will be our fifth year at the event, which still seems kind of crazy to me.
If you're a developer attending either event and you have a cool new game to show us, feel free to get in touch with me to schedule some kind of meeting. I've found the easiest way to go about doing this is via instant message I prefer Google Talk as everyone and their brother seems to have a half dozen different Google logins these days. My username on Google Talk is the same as my email address which you can get by solving this CAPTCHA.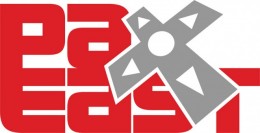 Be prepared to pitch me what you're going to show us, as we're typically totally slammed at these events and are going to be a bit more choosy with meeting requests this year. If you don't have a game to show us, but are interested in getting some drinks or otherwise just hanging out, I made a Twitter list of everyone from TouchArcade who is going to be at GDC. We'll probably be spending lots of time at Denny's if previous years are any indication.
Generally speaking, we hang out in the lobby of the Marriott during the day, in the very back sitting at one of those tables with the plasma TV's over them. It'll make sense when you get there. We use the Elgato Game Capture HD to snag direct capture footage of iOS games these days, so please make sure your game works with screen mirroring via video out. It likely already does, but we've run into weird issues with games from developers who didn't even know their game didn't work with the Apple Digital AV adapter because there wasn't much reason to test it out.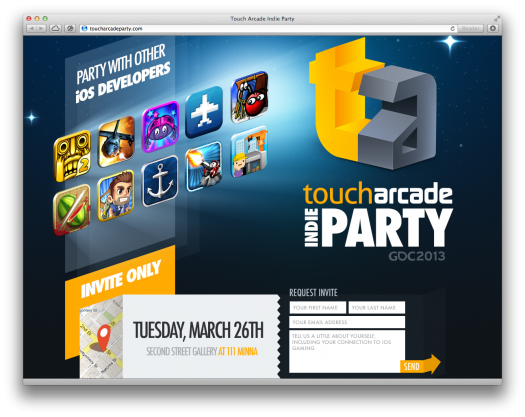 We're doing our party a little differently at GDC this year, and in a weird stroke of pre-planning decided to rent out an actual venue instead of taking over the Marriott lobby. The party will be held at 111 Minna Gallery on Tuesday the 26th at 7:00 PM. Space is a little limited, so head over to the party site to request an invite. There will probably be an after party of sorts too, and the best way to find out about that is probably by following us on Twitter.
If you're going to be at GDC and you're interested in hearing me talk about iOS games, you'll have three opportunities to do that:
Last, but certainly not least by any stretch of the imagination, is stickers. So, when I posted about getting 2" x 2" custom app icon stickers it was mostly driven by the fact that a few people on Twitter were talking about how it'd be cool to get enough people to make them that we can actually have a sort of sticker trading GDC mini game. And, well, that's exactly what has happened. The dudes from We Heart Games are maintaining a checklist and there's a stupid amount of stickers on there now. I'm sort of blown away by the response, even big publishers are getting in on the game, or at least, are emailing me about it.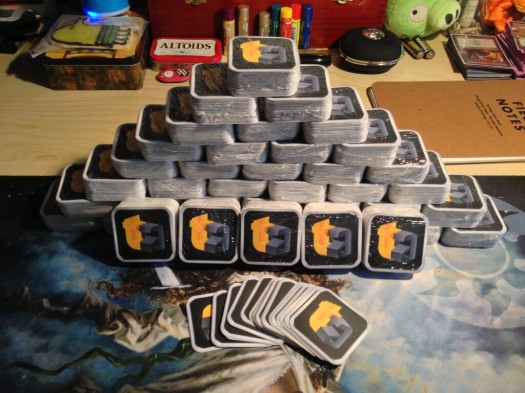 To get stickers on the cheap, head over to Sticker Mule. If you click that link you'll get $10 of credit on your first order, and if you use coupon code TOUCHARCADE you'll save another $25. From there, you basically can spend anywhere from $15 to unlimited dollars on however many stickers you want. This coupon code is only good until the 15th, so hurry it up!
I think that's everything. Just to sum everything up:
Also I'm big into ante league if anyone feels like bringing their deck.