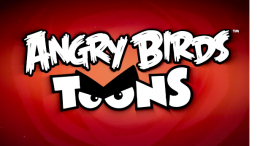 This coming weekend is when you'll finally get to watch the misadventures of the Angry Birds crew when their cartoon series debuts, and as we hypothesized when we brought you this news late last month, today Rovio has confirmed that you will indeed be able to watch the new Angry Birds Toons right from within the Angry Birds apps themselves. Recent updates to the various Angry Birds games have added a currently hidden "Channel" button to the main menu, and during March 16th and 17th this button will automatically be unhidden and will grant you access to Angry Birds Toons. The cartoon series will debut new episodes weekly, and they've already got a full year of them, or 52 episodes, in the pipeline.
It's actually a very interesting situation. Rovio touts their number of Angry Birds downloads at 1.7 billion, which I'm sure includes everything from lite versions to web versions and whatever other portals where the game is available. (I'm pretty sure Samsung makes a refrigerator that you can play Angry Birds on.) Anyway, while I'm sure that 1.7 billion number is inflated to sound as impressive as possible, there's no doubt millions upon millions of daily Angry Birds users in one form or another. Being able to flip a switch and deliver content to that amount of people at once, worldwide, without the use of traditional broadcasting methods, is a very powerful thing. I'm really curious to see how the new cartoons will be received. Here's a new, and very brief, teaser for Angry Birds Toons.
The series won't be limited to just the apps, though. Rovio has partnered with select content distributors to ensure that the cartoons will be as widely accessible as they can be. In the US they've partnered with Comcast to make the show available on Xfinity on Demand and through the Xfinity TV Player app, and globally on Samsung Smart TVs and eventually Roku boxes and other media platforms. Basically, what I'm trying to get at, is that if you want to watch the Angry Birds Toons there will be no shortage of ways to do so. Rovio considers the launch of their cartoon "an important milestone for us on our journey towards becoming a fully fledged entertainment powerhouse", according to CEO Mikael Hed.
So what say you, Internet? Are you excited for checking out Angry Birds Toons? Or did you reach critical levels of Angry Birds overload a long time ago? Either way, chances are there will be plenty of buzz surrounding Angry Birds Toons when it launches this weekend, and we'll be kicking back to watch both the show itself as well as how it plays out