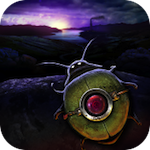 We're fairly eagle-eyed when it comes to spotting the good games that grace the App Store's shelves, but inevitably with such an expansive offering of games there's bound to be those that fly under our radar. One of those games was Help Volty ($0.99), an atmospheric and clever puzzle game for the iPad.
Help Volty actually released back in October of last year, a lifetime ago in the mobile space it feels, but Brad happened across it last month in his never ending plight to discover cool games, and found it enjoyable and worth talking about. Him and Eli took it for a spin in a TA Plays video, and a couple of days later offered out a full review for Help Volty, awarding it a solid 4 stars.
I'm bringing all this up because right now, to celebrate the integration of Game Center leaderboards and achievements late last month, Help Volty's creators have decided to make the game free until March 10th.
If you're an iPad owner looking for a new puzzle game to work through, and this one originally slipped by your watchful eye just like it did ours, then you should be all over this free promotion. Check it out with the link below, and also be sure to stop by the thread in our forums for some discussion and strategies for Help Volty.