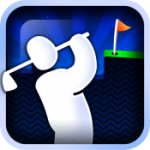 Last week we got our first big taste of Super Stickman Golf 2 with a new trailer showcasing the various new features of the upcoming sequel to Noodlecake Game's physics golfing extravaganza. The release of Super Stickman Golf 2 is fast approaching too, and to celebrate this the original Super Stickman Golf ($2.99) has gone free.
We've previously talked about how much fun the online multiplayer is in Super Stickman Golf when it first arrived via an update to the game almost two years ago, but the single-player portion is not to be dismissed either, and provides a fantastic challenge and loads of content that will keep you busy for hours on end.
Super Stickman Golf has been free before, and ridden the rollercoaster of price drops that most games endure in the course of its more than two year lifespan. However, if you somehow have managed not to pick it up yet, I just can't recommend it enough and it should be a great introduction as to what to expect in Super Stickman Golf 2. We'll have more on the sequel as it nears release, but definitely don't slip on picking up the original for free while you can.