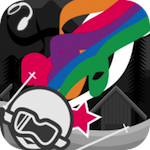 There's a ton of endless arcade action games on the App Store, but few have the sense of style and speed that Solipskier ($0.99) does. Ported from its humble flash beginnings by creator Mikengreg to the iPhone in 2010, it's a psychedelic and frantic skiing game that has you making the mountain that your avatar blazes down. A great run isn't just about speed; it also has a lot to do with your ability to pull off sick tricks as well as guide your guy into various gates.
In our original review, we talked a lot about this game's originality. What we couldn't discuss was its staying power, which has been amazing. Solipskier has managed to have a home on all our devices throughout the years. That says a lot.
If you haven't seen this game yet, give our Rewind video a look. You can grab it now for 99 cents on both iPhone or iPad, if you're interested.