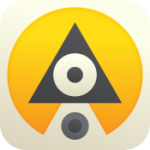 We've been waiting for Lucky Frame's follow-up to Bad Hotel ($1.99) since the studio announced its existence back in November, and as of today Wave Trip ($0.99) has finally arrived in the App Store. Like the developer's previous titles, Wave Trip has a clean aesthetic and game mechanics tied closely with music creation.
This is essentially a cave flyer like many you've no doubt played before, but every element in the game has a musical sound attached to it. So as you fly through a level collecting items and avoiding obstacles, a song is slowly and progressively building up until you reach the end of the level. By that time you've got yourself a reasonably complex, funky little tune. It's really beautiful as an audio/visual experience, but it's quite fun and challenging too with its 3-star system for each of the 25 song levels.
What's more is that Wave Trip comes with an extremely easy to use grid-based level creator, so you can make levels and upload them to share with the world or conversely download levels created by others to play yourself. You can even remix any of the included levels using the editor just to put your own spin on the default setups. It's pretty sweet actually.
Right now we are definitely digging Wave Trip in our brief time with it, and we'll continue to dig in to see how well the game parts of it stand up. When it comes to the visuals and sounds though, it's already easy to see Lucky Frame has totally nailed it. You can get more early impressions in our forums and you can snag your own copy of Wave Trip for $1.99 with the link below.