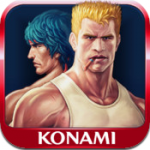 The iOS App Store can be a hotbed of crazy IP-infinging releases, and you may not know it but Konami's Contra series is one of the most popular targets. Usually a game with a name that doesn't mention anything about Contra will pop up and nothing more than a ripped ROM of the NES or arcade versions of the game with dodgy touch controls slapped on it. I see them all the time, usually they get taken down sometime after the fact, and then usually another nearly identical version is released with a slightly different name to take its place. It's rampant. I used to think it was fascinating but now I just kind of ignore it.
However, one of our eagle-eyed forum members has noticed what appears to be a Konami-sanctioned version of the game called Contra Evolution rear its head in the Chinese App Store. A demonstration video of the game can be seen below, originally posted to a Chinese site called AppGame.com and re-uploaded to YouTube and further detailed by PandaApp.com. It looks like Contra Evolution is based on the original Contra but with enhanced visuals and a whole slew of new playable characters. It appears to use simple virtual controls for handling what is one of the most notoriously difficult games of all time, but it's possible the difficulty is tweaked for the iOS release and I'd imagine there are special features like auto-fire that make the experience easier on the touchscreen.
We really have no idea if Contra Evolution will make its way to the US App Store, but I certainly hope that it does. It looks pretty awesome. We're going to dig for additional details on this one, but be sure to stop by the thread in our forums where the game is currently being discussed, and if you have access to a Chinese App Store account then you can check out Contra Evolution for ¥12.00 on the iPhone and ¥18.00 for the iPad version.
Chinese App Store Links: