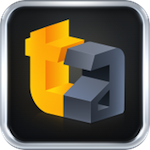 Just a quick post here to let folks know that we have just pushed an update to the official TouchArcade app (Free) live in the App Store.
This latest update primarily addresses a pesky bug that, at times, prevented users from being able to leave comments on a post unless they logged out of the application and then back in again. This bug has been squashed, and various other tweaks and optimizations have been put in place. So, please fire up the app on your iPhone or iPad, grab the update, and comment away!
If, for some crazy reason, you're not using our app yet — give it a try. It'll connect you with our latest editorials and point you straight to the latest and hottest iOS games out there. It's a Universal app, optimized for both the iPhone and the iPad, and it really is the best way to get the most out of TouchArcade.