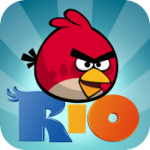 This is a pretty big deal: Rovio, creators of the Angry Birds franchise and future world dominator, has just dropped the price of one of their games to free for the first time ever. Even cooler is that it's for both the iPhone and iPad versions. The game in question is Angry Birds Rio (Free), a tie-in with the 2011 movie called Rio and one of the very few movie tie-in video games that doesn't absolutely suck.
Angry Birds Rio brought more of the same bird-flinging action that we all are quite familiar with by now, but also threw a couple of new very welcome twists into the formula. First and foremost are the boss fights, which were a first for the Angry Birds series and have you squaring off against the main antagonists from the Rio movie. The game also utilized more advanced graphics and recently was updated with tons of new power-ups and support for the widescreen of the iPhone 5.
You can read our original review if you're stuck on the fence for whatever reason about downloading a free game, but chances are you're familiar with the whole Angry Birds formula and the Rio edition is more of that with enough twists to set it apart from its many other variants. And I mean hey, it's free, just download the dang thing would ya?