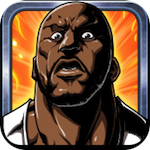 Earlier this morning, Jared and I spent some time with ShaqDown (Free). It's a side-scrolling brawling game starring Shaq, the former all-star NBA center and video game star. In the game, you're tasked with plowing through hundreds and hundreds of the undead in order to do … something heroic. We kinda didn't pay attention to that part.
This isn't a brawling game in the traditional sense. In each of the three levels, you'll be presented with three lanes with zombies occupying each. You can ram, uppercut or toss a basketball at the smaller zombies, earning points in the progress. The bigger zombies, however, are invincible and will instantly kill you if you hit them. This is where the lane-switching comes in. Gotta keep moving to avoid the big guys.
If your brain is kinda scrambled by all of that, check out the video. That'll set you straight, more than likely.