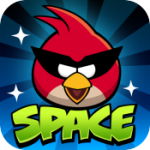 Hey, it's time for your weekly Angry Birds content update. Ok, so maybe the games are not actually updated ever week, but there's so many different versions of the game and they each receive such frequent updates that sometimes it can feel that way. Today's update is for Angry Birds Space (Free) and Angry Birds Space HD (Free), the, uh, fourth main games in the Angry Birds series.
The update includes 30 new levels set in a water galaxy, dubbed the Pig Dipper, with unique water physics and some Bad Piggies patrolling in boats. There's also 3 new power-ups: Flock of Birds, Space Egg, and something called the Pig Puffer. Alrighty then! There's also a new underwater boss level and a few new bonus levels if you can achieve some 3-star scores on this new pack of levels. Also, if you check in with the game everyday you can score a free power-up.
Angry Birds Space is yet another Angry Birds game, but that's not a bad thing. It introduced the gravity slinging mechanic that's also made its way into the latest game Angry Birds Star Wars, and the way that Rovio is constantly updating the whole library of Angry Birds games means that your buck or three should go pretty darn far in terms of providing entertainment. You can check out our original review of the game for some more insight, but if you aren't familiar with Angry Birds by now then I just don't know what to tell you.