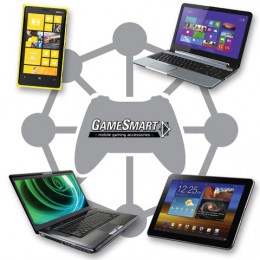 Here's some pre-CES news for your eyeholes: PC and console peripheral maker Mad Catz has a new initiative called "GameSmart" that'll add Mac and mobile support to a fresh run of some of its more popular peripherals via Bluetooth pairing.
You can peep a few of the devices that'll see GameSmart integration on the initiative's official web site. Of note, there's a wireless gamepad, as well as a couple of those RAT mice that people seem to like so much.
"Designed to work seamlessly and wirelessly with a wide array of devices and platforms, GameSmart Technology is the next generation for gamers wanting controller and console-like accessory functionality for their tablets and mobile and smart devices," the web site says. Easy setup and "longer" battery life are being promised, too.
GameSmart sounds promising, but, mobile-wise, there's probably going to be a bottleneck as far as game integration goes. Developers will have to add support for these devices into their games, and well, we know how that usually goes.
Another thing: we've yet to catch a specific iOS mention from Mad Catz — even the initiative's promo image neglects to show an iPad or an iPhone. It'll be interesting to see if Mad Catz sticks strictly with Windows and Android.
Engadget reports that more peripherals will be unveiled at CES and the hardware "will launch shortly after" they're unveiled. We're definitely open to seeing more.
[via Engadget]