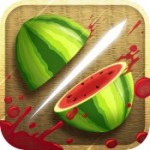 Last week we briefly mentioned that Fruit Ninja HD ($1.99) for the iPad had received a new update that included a couple of new blades, two new backgrounds, and a handful of new challenges. We also expected that same update to hit the iPhone version of Fruit Ninja ($1.99) along with widescreen support for the iPhone 5 and new iPod touch 5th generation model. Well, that's exactly what happened as late yesterday the update for the iPhone Fruit Ninja went live in the App Store.
And hey, it's great. I mean it's Fruit Ninja, a total classic, and I'm very happy to have it support the wider screen of my iPhone 5 now. But let's be real. I'm merely using this new update about Fruit Ninja as an excuse to post this new video that has been making the rounds which features a real-life Fruit Ninja slicing up a market full of fruit in the forest, in slow motion… set to dubstep, naturally. It's glorious. These same folks made the "kittens flying in slow motion" video that was pretty popular a few months back, and they do some seriously quality work.
So grab the latest Fruit Ninja update on the App Store and take a break from whatever probably way less important task that you're currently doing and check out this vid, and be sure to watch through until the end. Wubwubwub.