This week on a bonus episode of The TouchArcade Show, we sit down with Mark Jacobs. You might know the name. Jacobs was the VP and CEO of Mythic Entertainment, and saw over the release of two popular MMOs: Dark Age of Camelot and Warhammer Online: Age of Reckoning. Jacobs is now trying his hand at mobile. Recently, he co-founded a brand new studio called City State Entertainment and released a new game, March on Oz ($0.99).
March on Oz is a lane defense game set deep in the universe of the Wizard of Oz. This is a far cry from what we expected Jacobs next project to be (an MMO), but you see a lot of MMO design sensibilities being applied to his new game. For example, even though it's released, core development hasn't stopped. Feedback will influence the direction of points of design in future updates and more content is slated to hit in the near future.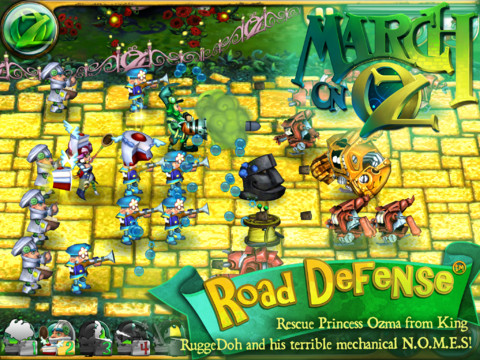 We touch on Oz at several points in the show, but for the majority, we discuss the big themes and issues on mobile right now. Jacobs was releasing MUDs while some of us were in diapers. He's seen a lot, made a lot games, so he has an interesting perspective on phases like free-to-play, as well as in-app currencies and design as a whole.
iTunes Link: The TouchArcade Show
Zune Marketplace: TouchArcade.com Podcasts
RSS Feed: The TouchArcade Show
Direct Link: TouchArcadeShow-Bonus-047.mp3, 30MB
He also shares some stories from his days as the figurehead behind Dark Age of Camelot, a game he certainly has fond memories of. We don't want to give it away, so we'll just tease this: his story about a contract is beyond awesome.
If you'd like to give this listen, bang on one of the links above. You can also hit us up and subscribe to us on iTunes and Zune. The latter is the easiest way to listen to us since episodes download instantly and all.
We'd like to thank Jacobs for sitting down with us this week. It was an awesome show, and we think you're all going to dig it. We'll be back later this week for a regular episode of The TouchArcade Show. Enjoy!