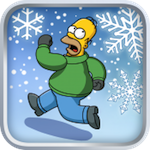 Now there's even more stuff to do in The Simpsons: Tapped Out (Free). Yesterday, EA rolled out another content update to its free-to-play Simpsons game, adding a few "limited edition" buildings, quests, and characters. There's even a new collectible currency: Santa Coins, which can be used to "get seasonal facades" for your Tapped Out buildings.
This is probably one of the biggest Christmas-themed updates we'll see this year, as EA went all-out. Santa's Little Helper and Santa Homer are two of the new characters, for instance, and one of the building additions is a reindeer feeding farm called Santa's Village. If you're into the specifics, bang on this link to catch the full notes.
The Simpsons: Tapped Out hit the App Store this March. It's seen six updates since, and will probably see a few more since the game is clicking with folks.