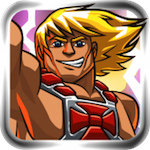 He-Man: The Most Powerful Game in the Universe ($2.99) (actual name) just got its first content update, and we're guessing it's going to go over real well with fans. Dubbed the "She-Ra" update, the free download adds the Princess of Power to the core game as a playable character. Literally, you can play every level in the game as She-Ra. And it isn't just a skin — She-Ra has different powers and uses different items.
On the technical front, this update adds a new virtual button control scheme. A few bugs have been squashed, too, and the game has seen some nebulous optimization tweaks.
We dig He-Man, maybe mostly because the game knows we're kinda crazy for digging the property as much as we did while growing up. But it's also a pretty cool action-platformer. If you're into cutting stuff while jumping around, give it a look.