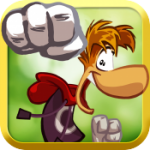 Ubisoft did something special with the iOS release Rayman Jungle Run ($2.99). They took the gorgeous art assets from Rayman Origins, the critically acclaimed reboot of the Rayman series that hit consoles last year, and reworked them into a game built from the ground up for mobile and touchscreens.
The result was an auto-running version of the popular platformer with 40 brilliantly designed levels, each crafted with Rayman's various special abilities – like wall-jumping and helicopter floating – in mind. Rayman Jungle Run also boasted some of the nicest visuals and smoothest animation on the entire iOS platform. We thought it was a pretty great game in our review.
Yesterday, Rayman Jungle Run's first significant content update landed which added a brand new world called Potpourri. It contains 10 new levels to play through – 9 regular ones and a new ultra-difficult Land of the Livid Dead level. There are some new gameplay elements here too, like triggering platforms by jumping on plants and the ability to slide on water. This new pack of levels is free to everybody, but just FYI you will need an internet connection to download them to your device.
In addition to new levels, there's also a new in-app purchase option. For 99¢ you can unlock a Heroes pack which gives you a playable Globox character and 2 re-skinned Rayman characters. Big ol' Globox is fun to play as for a nice change of pace, though he seems to use the same voice samples as Rayman which is kind of odd. The skins offer a sinister-looking Dark Rayman and an amusing "Rayman dressed in a Globox costume" character. The different characters appear to only offer cosmetic differences, and all play exactly the same, but are fun nonetheless.
Seriously if you like challenging but rewarding games that feel like they're tailor-made for mobile, and are a visual treat to boot, then you need to have Rayman Jungle Run in your collection. The new update adds 25% more levels to the game for free, and if you want to float Ubisoft an extra buck the unlockable skins are a cool bonus.