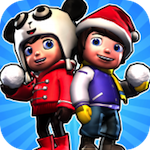 A game about throwing snowballs is Uppercut Games next big thing following the release of its phenomenal cover-based third-person shooter Epoch, and the festive title is now available on the App Store.
SnowJinks ($0.99), as it's called, is a surreal kind of follow-up that iterates on the work that went into making Epoch's cover-based mechanics fun. In the game, you play as either Jack or Jill in an "endless snowball war" against neighborhood bullies. You tap to release a snowball and swipe to duck, roll, and otherwise dodge snowball attacks. From the trailer we get a sense that SnowJinks shares Epoch's feel; you'll constantly be moving while in cover as opposed to just waiting, giving the action a flow that few shooters have.
We'll give you a little more on this in the near future, so stay tuned.