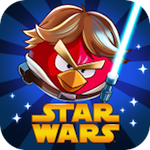 This seems worth jumping on. Earlier this morning, Angry Birds Star Wars (Free) received its first major content drop. A total of 20 new levels set on Hoth and a new Princess Leia bird have been added to the core package via a free update.
Hoth introduces ice-themed puzzles and AT-ATs, the most impressive ground machines of the empire. The Princess Leia bird adds a cool new wrinkle: her special power rips bits and pieces of structures out of place, allowing you to destabilize towering structures. Like, say, AT-ATs.
We've got a video of the new package below, if you'd like to peep it before you mash the update button. Rovio is teasing that more "epic adventures" are coming soon. We'll keep you in the loop.