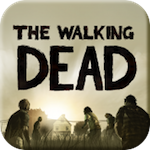 Oh, neat: the season finale of Walking Dead: The Game (Free) is hitting iPad and iPhone this November 21, the same day the conclusion to the five-part series appears on PC, Mac, and Xbox Live Arcade. A same-day release is a first for the iOS series. Up until now, each episode release has been a month or so behind.
We don't know a lot about episode five, "No Time Left." And you know what? That's A-OK with us. We'd rather go into it dark and experience the conclusion to what has been a fascinating, dark, and terrifingly gruesome series. We couldn't be more stoked for it.

When the game hits, you'll be able to grab it from the "episodes" tab. Each new episode is delivered via in-app purchase for $4.99. There's also a season pass that'll save you a few bones if you'd rather go that route.