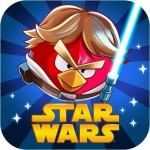 Rovio has been teasing us for the past month, but the wait is finally over for Angry Birds Star Wars (Free), which is now available worldwide, a wee bit earlier than expected. In this crossover title, one of the most iconic movie franchises of all time, Star Wars, mashes together with the poster child of mobile gaming, Angry Birds. The result is a game that plays very much like the Angry Birds games of the past but with all the sights and sounds of the Star Wars universe.
Not just that, though. The protagonist cast of birds and the antagonist fleet of bad piggies have special new abilities based on the Star Wars universe, like Force Pushing, Lightsabering, and firing off lasers with the iconic "pew pew" that's a hallmark of the franchise.
One thing that you can count on is that we'll be playing the heck out of Angry Birds Star Wars over the next few days to see how it holds up against the rest of the entries in the series. If you've played an Angry Birds game before then chances are you know what you're getting into here, but if you're a Star Wars fan too then it looks like there's all sorts of neat fan service and cool ideas that make great use of the IP.
As is typical of Rovio, there are separate versions of Angry Birds Star Wars for the iPhone and iPad and you can grab either or both from the links below. Also don't forget to check out the iPhone version forum or the iPad version forum for even more impressions from early buyers.