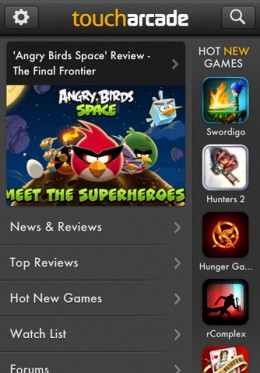 So, you just unboxed your shiny new iPad, a friend told you to check out TouchArcade, and you have no idea where to start. Well, the TouchArcade App (Free) is what you need. We use it ourselves to find new games, and it's even been the center of success stories like the discovery of 10000000 ($2.99) which was detailed fabulously on The Penny Arcade Report.
The core of the app is the "Hot Games List" which you can see on the right side of the screenshot. Those games are being aggregated in real time, and as much as I hate to admit it, is not only faster than the featuring process on the App Store, but also the front page of TouchArcade.
Similarly, if you're more interested in upcoming stuff, the watch list functionality will keep you in the loop and allow you to bookmark any upcoming game. From there, you'll get push alerts when we post new stories on said game, as well as an alert when it's available to download. As weird as it is to say, even if I didn't run this place, I'd still be all over the TouchArcade app.
Alright, well, I guess that's enough self-promotion. (SERIOUSLY DOWNLOAD IT!)