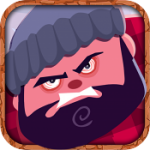 Following the release of Snuggle Truck (Free), Owlchemy Labs moved on to something more… Supernatural. In Jack Lumber (Free) you play as a lumberjack that can equip magical beards to, well, jack lumber, as the game's title suggests. We took a look at the game in a TA Plays video and had a great time with its not-quite-Fruit-Ninja-style gameplay. Recently, the developers took the game to the 2012 World Lumberjack Championships and let real lumberjacks give it a spin.
The results are… amusing:
If you haven't downloaded Jack Lumber yet, it's worth a look. I really like how it feels like the game is only merely inspired by the Fruit Ninja mechanic instead of just falling in line with other re-skins and clones that spring up when anything hits it big on the App Store.