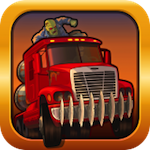 Halloween has come to Earn to Die ($0.99).
In a brand new update for both the iPad and the iPhone version of the endless driving game, creator Not Doppler has expanded the core of the action model to include a hip-sounding (and festive) pumpkin collection mechanic. A total of 190 collectable pumpkins have been added across all the game's levels in a new "Halloween Mode" that tasks users with not just surviving, but also with grabbing pumpkins that are "stowed away in hard-to-reach" places.
Corny or not, it's a welcome change of pace — especially for those of us who have beat the game. In fact, Halloween Mode isn't available until you've zoomed through the game's campaign. Here's a taste of what to expect:
We'll probably be dishing out a lot of information on Halloween content across a variety of games over the next week, so buckle up. 'Tis the season, you know?