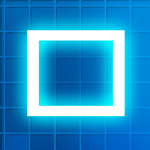 Gear up: a hip puzzle game from Airtight Games is shooting down the pipe and it'll hit the iPhone, iPad, and iPod Touch as a Universal app in the near future — or "soon" or … the "week of October 29, 2012."
The game is called Pixld, and it'll be the first ever mobile release from Airtight, the studio previously responsible for everyone's favorite jet pack game Dark Void and one of the best puzzle games this side of Portal, the weird and whimsical Quantum Conundrum.
Pixld isn't like these games. Boil it down, and it's a color matching game. In each of its modes, you'll be presented with a grid full of square tiles and be tasked with flipping them. When flipped, tiles invert their colors. Tiles surrounding the flipped one do, too. Matches are made when four or more like-colored tiles touch.
The core mechanics are pretty straight-forward, which isn't unexpected since this is Airtight's first mobile title. But the game as a whole has some neat touches. The five different modes shoots to mind as the neatest because each has an interesting rule set, restriction or embellishment on the matching model, fleshing out the matching in entertaining ways. Modes are just modes usually; cute ideas that don't improve the core experience. In this game, they carry some weight.
To give you a few examples, there's Leveled, a spin on the usual Score Attack mode that has you shooting for as many point as possible in order to level up and buy yourself more time to play in the process. 50 Taps is a personal fave. It's a chilled sort of mode that gives you a maximum of fifty flips to score the highest amount of points possible. You can really dig into the overall strategy with this one.
Pixld's assortment of power-ups — all the point modifiers and the tile-clearing bombs — have a tendency to skyrocket scores to silly levels, adding to the reward of a sweet match. Game Center support and leaderboards ensure that, on some level, you're competing against more than just yourself points-wise.
For me, the biggest indicator of overall puzzle game quality is how often I want to whip the game out of my pocket whenever I'm bored. Pixld is now a go-to for me, and I play it wherever: at the desk, in the bathroom, at the shoe store. It's quite capable filling up the (mostly) idle moments of my life because it's snappy and simple enough to do so.
The last place I expected to enjoy Airtight Games is in my pocket. I asked Airtight creative director Kim Swift about unexpected move to mobile in a brief e-mail exchange. Swift says:
"Airtight Games is getting into the mobile business because we have a lot of ideas for tight, pick-up-and-play gaming experiences that are better executed on mobile platforms rather than consoles. The awesome thing about creating mobile games is they're quick to actualize to see if they're fun, and the streamlined publishing process makes it easy to get these titles in gamers' hands."
"Pixld is our first venture into mobile gaming, but expect to see more from us in the future. We're pretty excited about what we've got coming up."
Pixld will see a release next week across iPhone, iPad, and iPod Touch. It'll be Universal and priced at 99¢ during its upcoming introductory launch sale. We've got some footage above, and check out all our images for a closer look.