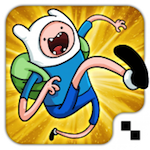 Earlier this morning, Eli and I spent some time with Jumping Finn Turbo ($0.99), an Adventure Time-themed "fling" game that stars the cast and crew of the show. In the game, you'll be tasked with flinging Finn across a vaguely arctic environment. As Finn flies, he'll collect points that can used to level up his speed and jump. Later, you'll be able to unlock characters that'll juggle Finn, keeping him in the air for longer.
Unlike, say, Burrito Bison, there's no ground game in Jumping Finn Turbo. Once you smash the ground, that's just about it. On the other hand, there's much more player agency in Jumping Finn. With a press of a button, you can summon Jake to blast you higher in the air or, at the last second, give you a slight boost before you smash the ground. It's a neat touch.
Anyway, here's a look if you want to see it in action. Maybe it'll click with you.