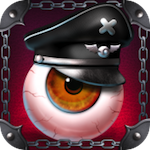 Earlier this morning, Eli and I spent some time with Eyelord (Free). It's a marble popper that tasks you with spitting gelatinous eyeballs into a line of other eyeballs. Matches are created when three or more like-colored balls meet. The game ends if the last ball in the line of balls manages to enter the Eyelord's mouth.
So, basically, it's like Zuma, except with eyeballs and a massive heavy metal skull that eats eyeballs. Notably, you just tap to spit a ball, which is actually feels like a much better way to play these games. It gives you some actual precision.
Anyway, check out our video if this seems up your alley. It should give you a much more solid indication if this will click or not with you.