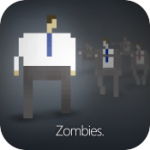 Earlier this afternoon, Eli and I spent some time with Zombies ($0.99). It's an isometric hack-and-slash that tasks you with killing zombies, rescuing people, and generally surviving in an office full of zombies. As you'll notice, zombies aren't the only thing you'll be able to pummel: the office environments are destructible, too. In fact, half the fun is seeing what you can tear up while navigating the game world's cubicles.
The build we're playing in the video is a debug build and we have a little hiccup with the game's Pause functionality. For the record, this isn't a problem with the build on the App Store, though that one is prone to crashing every so often.
Another thing: this game has an amazing soundtrack. If you're into chiptunes, you should check this out. Also, it has zombies in it, so there's that.