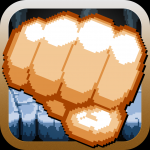 We got our hands on an early copy of Rocketcat Games' upcoming endless puncher, Punch Quest, and really like what we're seeing so far. I instantly plugged in my capture gear and recorded ten minutes of very early gameplay footage, showing the power level of your guy and the various unlocks you'll have when you download the game after it's released next Wednesday.
Punch Quest is going to be free, and loaded with unlocks to work towards. Alternatively, coins can be purchased in game to speed up your progress, but so far I haven't come across any need to do so unless you're just the kind of person who has to have everything now. Of course like all Rocketcat Games, there's tons and tons of hats to unlock. It's crazy just how much customization there is in this game to work towards.
Take a look at the video:
As mentioned, Punch Quest will be available on the 25th, or, more accurately, 11:00 PM Eastern the night before. It'll be free, and it's awesome.