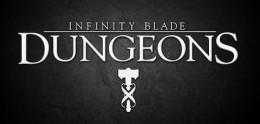 We've been chomping at the bit for Epic's Infinity Blade: Dungeons ever since it was announced at Apple's new iPad media event back in March, and based on the numbers from the upcoming game tracking built into the TouchArcade app (Free), all of you out there have been dying to get your hands on it as well.
Unfortunately, as AllThingsD has learned, Infinity Blade: Dungeons won't be hitting anytime this year, and an Epic representative won't go beyond just saying that the game will release sometime "in 2013", citing the difficulties of bringing a new development team, Impossible Studios, onto the project and the logistics of getting them up and running as reasons for the delays. Impossible Studios was formerly Epic Baltimore, which itself was initially made up of some former employees of 38 Studios after that company basically imploded earlier this year.
It's not just the logistics of bringing Impossible onto the project, but also the fact that the team has a ton of fresh ideas that they're trying to implement as well, so as much as it sucks waiting for something as highly-anticipated as Infinity Blade: Dungeons I'm confident that it will be a better game for it in the long run.
Did that positive pep talk help ease the pain? I didn't think so. I'm just as bummed as you are, but hang in there and we can get through this together. Make sure to check out our hands-on impressions of the game from E3, and of course get in on the discussion in our forums, and we'll let you know just as soon as we hear anything more about the release of Infinity Blade: Dungeons.
[AllThingsD, thanks to Jarod for the Tip!]