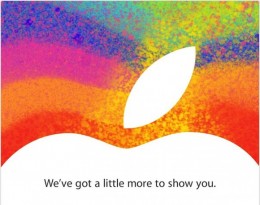 Apple has a "little more" to show members of the media as invites for an event scheduled for the 23rd are being blasted off to relevant members of the press. It's widely expected that Apple will be revealing a smaller-screened iPad that the internet largely has dubbed the "iPad Mini." Additionally, rumors have been circulating that we might see a slightly revised version of the iPad that swaps the dock port for the new Lightning port found on the iPhone 5. On the non-iOS front, there are strong signals we'll also be seeing updated iMacs, Mac Minis, and a 13" Retina Display MacBook Pro, although it remains to be seen if these will be featured at the keynote or just stealthily be pushed to Apple's web site.
Oddly enough, actual leaks of parts for the iPad Mini have been few and far between compared to the iPhone 5 which we practically knew everything about before the keynote even started. About the strongest thing we have to go off right now is some leaked part numbers which reveal potentially 24 variations of new products from Apple.
Either way, we'll know next week!