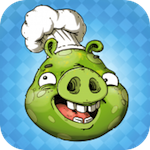 That Bad Piggies egg cookbook is now a digital cookbook. Earlier the other day, Rovio Entertainment debuted and then unleashed Bad Piggies Best Egg Recipes ($2.99) on the iPad. It's an interactive version of the print book, complete with cute animations and Angry Birds UI elements. It's pretty cheap, too, as it's rocking a 99¢ launch price.
If you like cooking eggs, this thing definitely has your back. All 41 of the recipes are supported by quality photos as well as step-by-step directions. Also, each recipe has a UI hook that allows you to upload your own photos of your eggs after you're done, which is kinda weird come to think of it, but whatever; people like to share everything nowadays.
Anyway, if you're ever wanted to know how to make egg butter (gross) or pickled eggs (grosser) and really like Bad Piggies, this seems like a thing you should have.
[via Paid Content, via Joystiq]