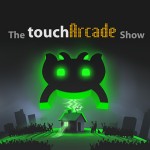 This week on The TouchArcade Show, we press "rewind" in a huge way in anticipation of a flood of new enthusiasts courtesy the iPhone 5. At the top, we re-introduce ourselves and talk about our podcast. What it seeks to do, how we roll, and why we try to deliver the hottest, latest, and best of iOS orally each week.
A little later, we dive into some basics of iPhone. We cover the games we like, the apps we use every day, and discuss traditional issues we've covered in the past. Think of it as something of a primer that hopefully will give new listeners a good idea of how our phone use and our stance on this stuff informs our work and opinions.
In the second segment we revert go old-school, covering the news and getting to a few user questions, just like we always do. If you're an old listener, we appreciate all of you hanging with us this week and understanding why we're doing this. If you're semi-new maybe this might answer some lingering questions you have.
iTunes Link: The TouchArcade Show
Zune Marketplace: TouchArcade.com Podcasts
RSS Feed: The TouchArcade Show
Direct Link: TouchArcadeShow-070.mp3, 39.8MB
Every week we throw out show notes about the stuff we've covered. We didn't hit on any new games specifically, but we did talk plenty about our past likes and, of course, also the front page. Here you go:
GAMES
FRONT PAGE